STARK Group awarded prestigious CSR award
STARK Group has been awarded the prestigious 2022 CSR award for best sustainability report by a large Danish unlisted company. The FSR - Danish Auditors awarded STARK Group the prize for its transparent and reliable reporting within sustainability, corporate social responsibility and ESG.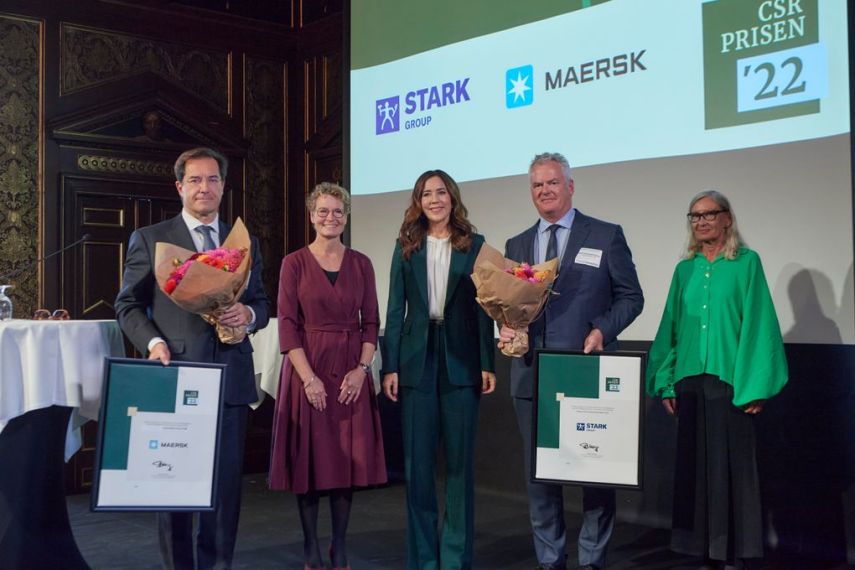 STARK Group wins the CSR award for its sustainability report 2021. The judges praised the report for transparently reflecting where STARK Group is in its work with sustainability and in relation to the company's 2024 targets. According to the panel, the report manages to connect the company's risks and opportunities within ESG and explains the company's role in relation to ensuring sustainability in the construction industry. Furthermore, the company's sustainability ambitions are clearly stated with a link to the sustainability Development Goals, and the report describes the company's climate impact and targets toward net zero in 2050.
CEO of STARK Group, Søren P. Olesen, says:
"At STARK Group, our approach to sustainability is based on transparency and documentation, which is why we are particularly proud of this recognition. We have set ambitious targets and strive to be responsible and transparent about our results, challenges and solutions. Through our sustainability report, we strive to communicate comprehensive data and overviews of our target, as well as down-to-earth cases about our impact on society."
"We know that the path to achieving our targets requires structured and well-documented processes. That is why we are incredibly happy to receive this award, which is the product of a great continuous effort from employees across the entire Group."
FSR – Danish auditors award prizes every year for the best reporting on social responsibility within two business categories. STARK Group received the award in the category large unlisted company, and A.P. Moller - Maersk received the award in the category large Danish listed company.
Among several other sustainability goals, STARK Group has a clear climate target of becoming net zero by 2050. The climate plan includes a 42% reduction of CO2 emissions from own operations (scope 1 and 2) by 2030, as well as a plan to actively acquire 100% renewable electricity and reduce its total scope 3 emissions by 12% within the same timeframe. STARK Group's climate plan has been validated and approved by the Science Based Targets initiative (SBTi).
About the CSR Award
With the CSR Award 2022, FSR - Danish auditors (FSR) highlights best-in-class reporting on sustainability in order to highlight good practice and be a source of inspiration for others. The award pays tribute to large Danish companies that distinguish themselves with a transparent and reliable report of their work with sustainability, corporate social responsibility and reporting on environmental, social and management issues (ESG).
About STARK Group
STARK Group is a leading business-to-business distributor of heavy building materials for the construction industry in the Nordics and Germany, with a strategic focus on serving the professional builders.
STARK Group has a revenue of approx. EUR 5 billion and serves c. 10,000 suppliers and 260,000 customers from its +500 locations. Headquartered in Denmark, STARK Group has approx. 11,700 employees in Germany, Denmark, Sweden, Finland, Austria and Norway. The Group has doubled in size over the last couple of years through acquisitions and organic growth, and today, it holds a leading national or regional position in all markets.
9 December 2021
Sustainability Report 2021
Download