STARK Group receives award for data-driven marketing
The HBH Foundation has awarded STARK this year's HBH Prize for the company's work with effective, data-driven marketing. The HBH Prize is awarded annually by researchers at CBS, Copenhagen Business School, and the HBH Foundation for state-of-the-art marketing by a Danish company or organisation.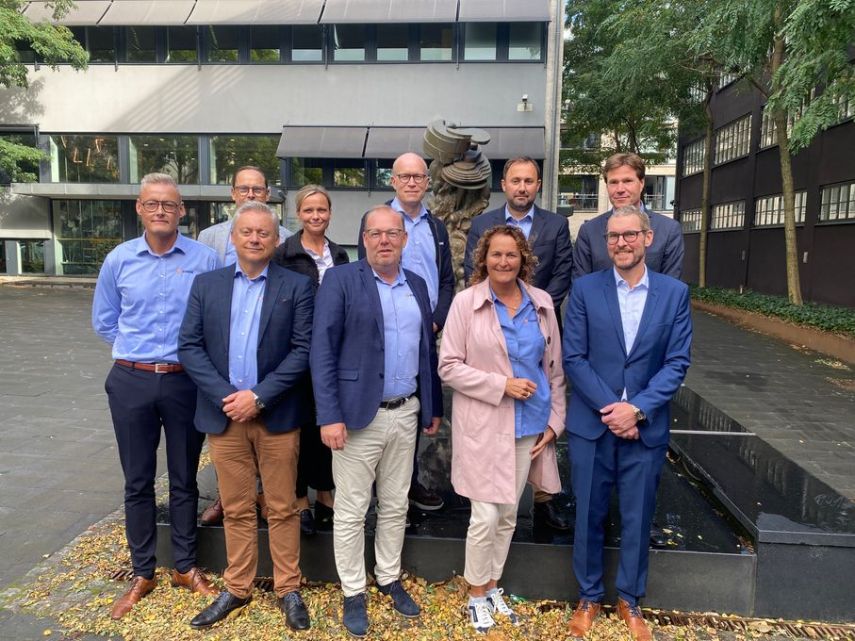 STARK wins this year's HBH award for its effective, data-driven marketing and focus on optimising the customer's business. STARK has made customer satisfaction and strong customer relations its most important driver of commercial success. This also applies in the area of sustainability, where STARK advises its customers to meet increasingly complex requirements.
CEO of STARK Danmark, Britta Korre Stenholt, proudly received the award on behalf of STARK at an event at CBS.
"We are proud to receive the HBH award and especially excited about the future collaboration with all the talented graduate students at CBS. Although STARK is a market leader and one of Denmark's largest companies, we are less well known outside our own industry - the HBH Award can help to change that."
CBS students and STARK in thesis collaboration
The award entails a one-year long collaboration with master thesis students from CBS. For STARK, it is a special obligation and a privilege to be a case company to benefit from skilled students.
This year's graduate students will be able to make a real difference by choosing STARK as a case study.STARKhas put forward six different themes: Business Model, Digital Leadership, Sustainability, Digitalisation, Logistics and Organisational Culture. The following year, the best thesis receives the HBH Troubleshooter Price.
"The themes described are all areas where vast and exciting changes will happen in the coming years. We, therefore, look forward to the graduates seeing new, innovative and different opportunities than we do ourselves - and willingly provoking us to do things in a different way than we are used to," says Britta Korre Stenholt, CEO of STARK.
It is especially increasing demands for more efficiency on the construction site, sustainability and digitisation that will bring about changes in the construction industry in the coming years.
"It will also affect how we at STARK do business with and serve our customers, making the themes very topical for both STARK and the industry. These are, therefore, real issues for STARK, and we are very much looking forward to learning from the graduate students' thoughts and ideas," says Britta Korre Stenholt, CEO of STARK.
About the HBH Prize
Since 1991, the HBH Prize has been presented annually by CBS and the HBH foundation. Behind the award is Henrik Bødtcher-Hansen, who established the company H. B. Hansen A/S shortly after World War II and made HBH a household name within electric appliances. Among others, the HBH prize has been given to Mikkeller, B&O Play, VELUX and Rambøll.
About STARK Group
STARK Group is a leading business-to-business distributor of heavy building materials for the construction industry in the Nordics and Germany, with a strategic focus on serving the professional builders.
STARK Group has revenue of approx. EUR 5 billion and serves c. 10,000 suppliers and 260,000 customers from its +485 locations. Headquartered in Denmark, STARK Group has approx. 11,700 employees in Germany, Denmark, Sweden, Finland, and Norway. The Group has doubled in size over the last couple of years through acquisitions and organic growth, and today, it holds a leading national or regional position in all markets.