STARK Group and significant companies call on governments to take climate action
Executives from 27 leading companies operating internationally call for ambitious and credible commitments to take even bolder and measurable steps for a more sustainable and just future.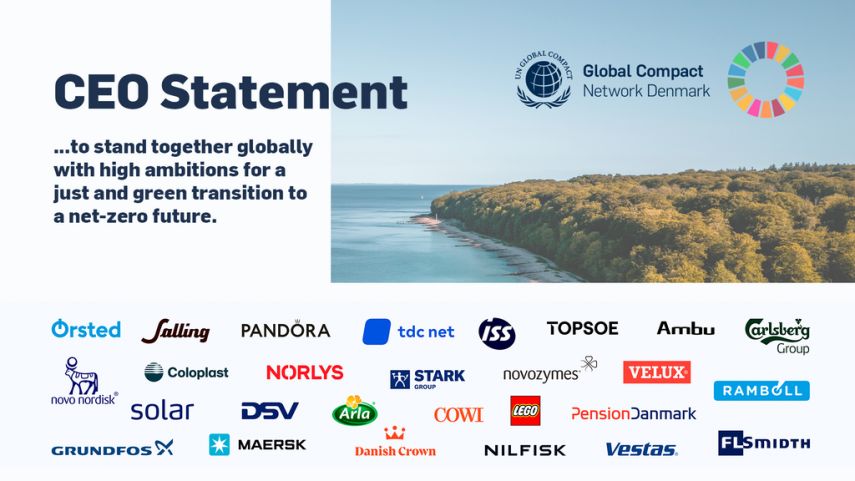 The CEO statement was launched earlier today at the 78th UN General Assembly during Climate Week in New York taking place from 17-23 September 2023.
In the CEO statement, the 27 companies make recommendations to how governments across the world can enable a faster green business transformation. These include:
Acceleration of investments in green and energy-efficient solutions at scale.
Advocacy efforts for solid regulatory frameworks that encourage green investments and ensure that frontrunners are not penalised.
Support for companies, in particular small and medium-sized enterprises, is needed to encourage them to take action in partnerships and set ambitious sustainability targets.
Access to green finance is key to bolstering the energy transition.
A strong, continued partnership.

STARK Group, CEO, Søren P. Olesen said:
"At STARK Group, sustainability is an integral part of how we do business. We have a clear commitment to reaching net zero by 2050 and work within ambitious and fully 2030-validated science-based targets to keep global warming below 1.5°C. We are calling on companies and governments worldwide to incentivise the transition to green energy, adding capacity for green fuels and setting measurable, transparent phaseout timelines for fossil fuels. Only together, in strong public-private partnerships and cross-sector coalitions, can we build a more just, inclusive, and sustainable world."
At the UN Headquarters in New York, UN Secretary-General Guterres' has recently called on the international community for ambitious and credible commitments and clear and transparent plans and pledges to "rescue the SDGs". With a few months to COP28, there is a resolute and strong need to take more concrete actions and solutions for a just and green transition to a net zero future.
The 27 companies behind the joint statement are: Ambu, A.P. Møller-Mærsk, Arla, Carlsberg, Coloplast, COWI, Danish Crown, DSV, Flsmidth, Grundfos, ISS World Services, Nilfisk, Norlys, Novo Nordisk, Novozymes, Pandora, Pension Danmark, Rambøll, Salling Group, Solar, STARK Group, TDC Net, The LEGO Group, Topsoe, Velux, Vestas and Ørsted.
Read the full statement here: https://globalcompact.dk/nyheder/ceo-statement-2023
About STARK Group
About STARK Group
STARK Group is a leading business-to-business merchant and distributor of heavy building materials for the construction industry in Europe, with a strategic focus on serving professional builders from its more than 1,150 branches. STARK Group has pro forma net sales of approx. EUR 9 billion, operates in the UK, Germany, Austria, Denmark, Sweden, Finland, and Norway and employs more than 20,000 people. STARK Group holds leading national or regional position in all markets.
STARK Group is committed to reach net zero emissions by 2050 across the entire business, is a signatory to the UN Global Compact, and works within fully 2030 validated science-based targets to keep global warming below 1.5°C.