STARK Group ends hectic year in the construction industry with solid profits and increased investments
Today, STARK Group A/S publishes its financial results for the 2021/22 financial year. The company has exceeded its own growth expectations by continuing to gain market share and completing a total of 12 acquisitions, primarily in Sweden and Germany. Today, the German market makes up half of the company's net sales.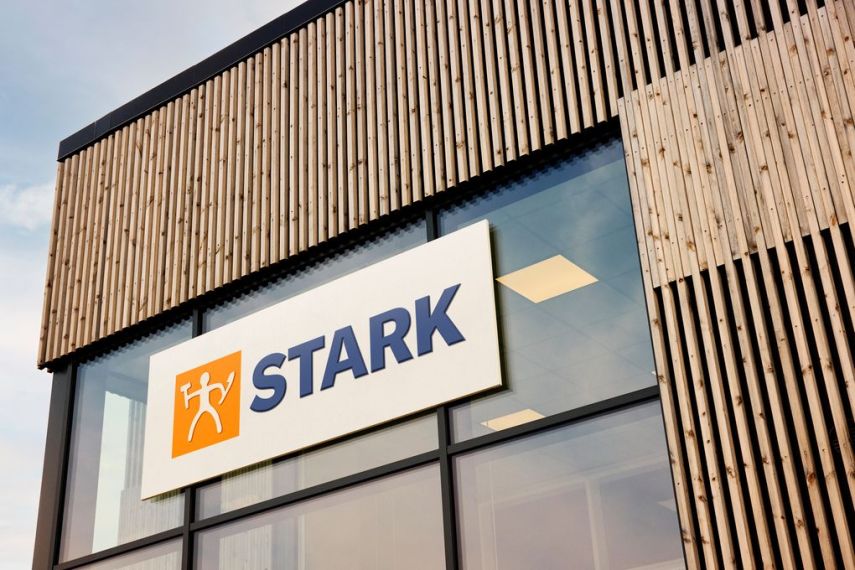 For the financial year, STARK Group's net sales were EUR 6 billion. The company achieved growth of 21.2% from acquisitions, increased market shares and the price development in building materials, where high demand and acute shortages led to significant price increases from manufacturers, particularly in the first half of the year.

While the prices of construction materials were volatile, the company maintained a strong control of costs. STARK Group maintained stable gross margin of 25.7%. Through great activity, a continued cost focus and contribution from acquisitions, the Group achieved an EBITDA growth of 41.1%. STARK Group's adjusted EBITDA amounted to EUR 479 million.

CFO Sisse Fjelsted Rasmussen says:

"We have been through a year that has been extraordinary in every sense of the word. The first half of the year was characterised by a pandemic, shortage of building materials and very high activity in construction industry. This brought a level of activity in our own business the likes of which we have not seen in recent times. The second half of the year was marked by inflation and the consequences of the war in Ukraine. The extraordinary busyness in the first half of the financial year, in particular, led to a result that we are proud of, and which has given us the opportunity to significantly increase investments in our business."
| | | | | |
| --- | --- | --- | --- | --- |
| EUR million | 2021/22 | 2020/211 | 2019/20 | 2018/19 |
| NET SALES | 5,995 | 4,949 | 4,095 | 2,299 |
| Adj. EBITDA2 | 479 | 339 | 241 | 118 |
| Adj. EBITDA margin2 | 8.0% | 6.9% | 5.9% | 5.1% |
Net sales and EBITDA have been adjusted to facilitate comparative analysis of STARK Group's performance.
12020/21 figures show the reported result disregarding the change of ownership structure effective 4 May 2021.
2Adjusted EBITDA is defined as EBITDA excl. non-recurring items of a material and extraordinary nature.
Acquisitions of 12 companies, improved customer offerings and sustainability
In the financial year, STARK Group increased its investments in creating a better company for customers and suppliers. The company announced 12 acquisitions in primarily Swedish and German growth zones, which have brought STARK Group closer to the thousands of construction sites where the company's customers are active.

Last week, STARK Group announced the acquisition of another EUR 60 million in net sales from Norwegian-Swedish tile specialists FagFlis and FF Kakel.

"We invest in giving our customers better solutions with 24/7 opening hours, well-located branches with a wide range of products and staff with a high level of expertise. We have put ourselves in a position where we can experiment across the company with new business concepts and offerings within sustainability and new digital solutions. We have solid underlying growth and are in a strong position. Therefore, we were able to accelerate our growth with an aggressive acquisition agenda that expands our leadership in the industry," says Sisse Fjelsted Rasmussen.

"Financing for acquisitions is becoming increasingly expensive and difficult to obtain. At the same time, we are seeing that more and more sellers are paying notice to the new market conditions and are adjusting their expectations to the market valuations. Our assessment is that we will continue to see attractive acquisition opportunities."

For the coming 2022/23 financial year, STARK Group expects to increase its net sales to EUR 6.1–6.5 billion and its adjusted EBITDA to EUR 480–510 million.

About STARK Group
STARK Group is a leading business-to-business distributor of heavy building materials for the construction industry in Northern Europe, with a strategic focus on serving the professional builders. STARK Group has net sales of approx. EUR 6 billion and serves c. 10,000 suppliers and 275,000 customers from its 550 locations. Headquartered in Denmark, STARK Group has approx. 12,500 employees in Germany, Austria, Denmark, Sweden, Finland, and Norway. The Group has doubled in size over the last couple of years through acquisitions and organic growth, and today, it holds a leading national or regional position in all markets.
14 November 2022
Annual Report Highlights 2022
Download