STARK Group opens Greenland's largest builders' merchant
STARK Danmark has opened Greenland's largest builders' merchant at the harbour in Nuuk. With the branch opening, STARK is strengthening its presence and position in and around the Greenlandic capital Nuuk. At the same time, the new branch is a testament to the Group's belief in the Greenlandic market.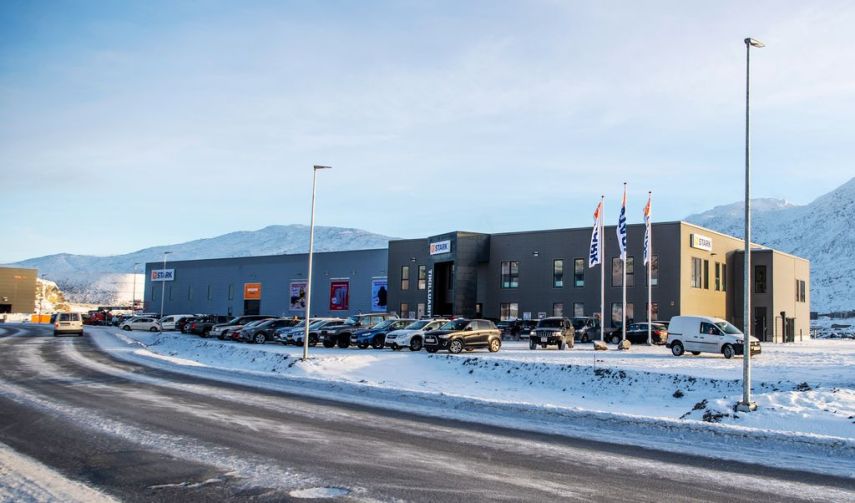 On Saturday, 19 November, STARK opened the doors to its new branch at the harbour in the Greenlandic capital Nuuk. A drive-in, a significant range of products, all building materials under one roof and better facilities for both customers and employees – these are some of the benefits of the new and modern branch in Nuuk.
The customers can look forward to a branch of more than 5,000 m2, where everything – including the large building materials – is gathered under one roof. In this way, STARK Nuuk will not only become Greenland's largest builders' merchant but also collect all products and building materials under one roof, which gives both customers and employees much better conditions all year round.
Søren P. Olesen, CEO of STARK Group says:
"During recent years, we have seen an increase in investments and building projects in Nuuk and other areas of Greenland. In general, we see a high activity and post corona, tourism in Greenland has almost boomed, large construction projects such as new airports have been adopted in several places, and the demand for new housing remains at a high level,"
Greenland's largest builders' merchant provides more space for an increased range and level of different products in stock: An advantage for customers in and around the Greenlandic capital Nuuk.
"Distances and transport times are naturally long in Greenland. Therefore, larger storage space is a huge advantage. Customers will find that we always have a larger selection of materials and goods in stock and that we can get goods to our other five stores in Greenland more quickly. In this way, the large business will improve the service for all our customers," says Poul Erik Nørnberg, CEO of STARK Greenland
STARK has been present in Greenland since 1983 and has branches in Nuuk, Aasiaat, Ilulissat, Qaqortoq, Sisimiut and Tasiilaq. The branch in Nuuk was built by Permagreen Grønland A/S, which has many years of experience in building in Greenland.
About STARK Group
STARK Group is a leading business-to-business distributor of heavy building materials for the construction industry in Northern Europe, with a strategic focus on serving the professional builders. STARK Group has net sales of approx. EUR 6 billion and serves c. 10,000 suppliers and 275,000 customers from its 550 locations. Headquartered in Denmark, STARK Group has approx. 12,500 employees in Germany, Austria, Denmark, Sweden, Finland, and Norway. The Group has doubled in size over the last couple of years through acquisitions and organic growth, and today, it holds a leading national or regional position in all markets.
About STARK Danmark
STARK is Denmark's largest retailer and distributor of building materials with 84 branches in Denmark and Greenland. STARK offers a wide range of services for both contractors and professional craftsmen. The company employs more than 2,500 employees and is part of STARK Group, which with approx. 12,500 employees in the Nordics, Germany and Austria and net sales of approx. 45 billion DKK is a leading distributor of building materials in Northern Europe.