STARK Group invests in new 65,000 sq.m. distribution centre in Sweden
Beijer Byggmaterial is strengthening its operations in Sweden with a new 65,000 sq.m. distribution centre located in Eskilstuna to accommodate future growth and an expanded assortment. The distribution centre will be built in collaboration with logistics partner Logent and the property owner CH Square in Eskilstuna Logistikpark.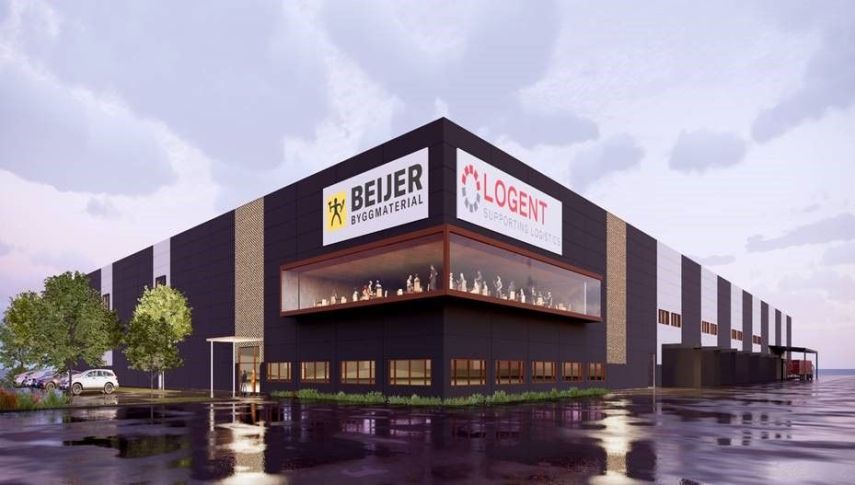 Built in a partnership with Logent, Beijer is expanding its inventory with a new central distribution centre with high flexibility and scalability as well as an expanded assortment to ensure the best customer experience.
With a strong environmental focus, the 65,000 sq.m. distribution centre will be divided into cold and warm storage as well as an automated storage system. It will also be possible to further expand the distribution centre by 27,000 sq.m.
Geir Thomas Fossum, CEO of Beijer Byggmaterial says:
"We continue to develop our customer offer and increase our delivery capacity throughout Sweden. We are very happy that we are now taking the next step in our growth journey with greater capacity at our distribution centre. A new tailor-made distribution centre also gives us the opportunity to increase our range throughout the country and, not least, to deliver faster to our customers. Logent is a good partner with whom we look forward to working together."
The expanded area with a logistics solution fully adapted to Beijer's needs provides new opportunities to greatly expand the distribution centre's assortment to meet future expansion and increased customer demands. It also opens up opportunities for a higher level of service and is able to offer more delivery methods and additional services from the central warehouse.
Beijer's new distribution centre is expected to be in operation in the spring of 2024 and, in the long term, will mean approximately 100 new job opportunities.
About STARK Group
STARK Group is a leading business-to-business distributor of heavy building materials for the construction industry in Northern Europe, with a strategic focus on serving the professional builders. STARK Group has net sales of approx. EUR 6 billion and serves c. 10,000 suppliers and 275,000 customers from its 550 locations. Headquartered in Denmark, STARK Group has approx. 12,500 employees in Germany, Austria, Denmark, Sweden, Finland, and Norway. The Group has doubled in size over the last couple of years through acquisitions and organic growth, and today, it holds a leading national or regional position in all markets.
About Beijer Byggmaterial
Beijer Byggmaterial AB is Sweden's largest retailer and distributor of building materials with 113 branches across Sweden. The company serves both building professionals and home professionals with high-quality building materials, tools and services. Beijer Byggmaterial has a revenue of approx. SEK 12 billion, employs around 2,500 employees and is part of STARK Group.