STARK Group enters the UK market through acquisition of more than 600 branches
STARK Group A/S achieves a milestone in its growth strategy. The Group has signed an agreement to acquire Saint-Gobain Building Distribution Ltd, which operates more than 600 branches and distribution centres in the UK.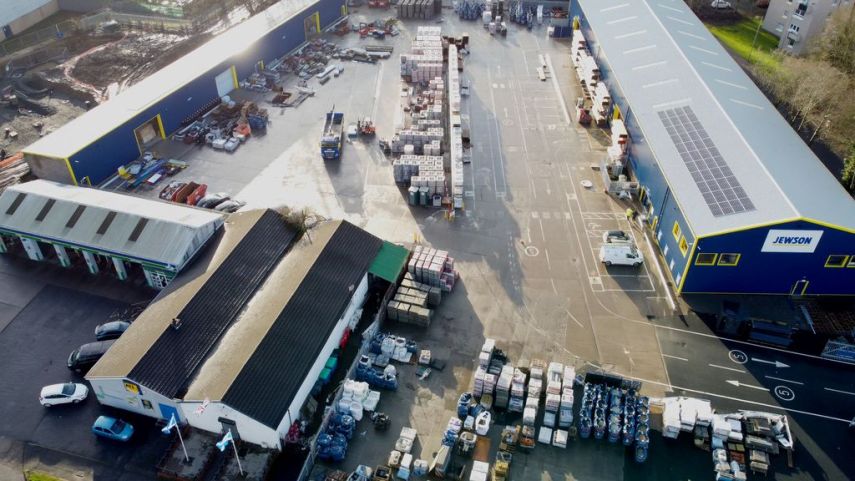 The transaction comprises some of the UK's leading brands in retail and distribution of building materials to professional craftsmen. These include the builders' merchant Jewson, strong local brands such as Gibbs & Dandy and JP Corry in Northern Ireland, specialist brands Jewson Civils Frazer and Minster, as well as International Timber.
The acquired business is expected to generate net sales of around GBP 2.3 billion (EUR 2.7 billion) in 2022, taking STARK Group's total pro forma annual net sales to around EUR 9 billion.

STARK Group has doubled net sales through organic growth and acquisitions since 2019 when the Group acquired Saint-Gobain's German distribution business. At that time, the company almost doubled in size as well, from EUR 2.3 billion to EUR 4.1 billion.
The acquisition of Saint-Gobain Building Distribution Ltd is based on an enterprise value of GBP 740 million (EUR 850 million) and is STARK Group's largest acquisition to date.
Group CEO Søren P. Olesen says:
"We have a strategy that successfully focuses on professional craftsmen and the renovation and maintenance market, which this acquisition fits very well into. In 2019, we bought Saint-Gobain's German distribution business, and there are many similarities in this acquisition. We will do our utmost to develop, grow and invest in the company making it the professional craftsmen's preferred choice."
"Despite the current tough macro-economic environment, the fundamental drivers for the renovation and maintenance market in the UK are attractive. We are facing a challenging transition year, but it is a solid company that we can make thrive and grow. The more than 600 branches and distribution centres are in good locations across the entire UK. We will invest in the business, the people, and the distribution. We have acquired a company with whom we can continue our growth journey," says Søren P. Olesen.
Attractive market fundamentals in the UK housing market
While the market for new construction is cyclically sensitive, most of STARK Group's net sales are concentrated in the renovation and maintenance market, which has more resilience.

The UK housing stock is amongst the oldest in Northern Europe. A third of all houses were built before 1945, and the average house is 65 years old. At the same time, half of all British households are facing significant renovations as the UK has the target of upgrading as many houses to Energy Performance Certificate (EPC) C-level by 2030 at the latest.
The UK population is projected to grow by 1.1 million (1.6%) to 68.7 million from 2022 to 2027, and more and more people live alone, which is increasing the need for newbuild and renovations of the existing housing stock.

The acquisition is expected to complete in the spring of 2023
The seller, Compagnie de Saint-Gobain SA, is among the world's leading manufacturers of materials and services for renovation, light construction and the decarbonization of construction and industry. It only has distribution in select markets. Retail and distribution of heavy building materials is STARK Group's core business.
The acquisition of Saint-Gobain Building Distribution Ltd is STARK Group's 18th acquisition since CVC Capital Partners Fund VII took ownership of the company in May 2021.
The transaction is expected to close in the spring of 2023.
About STARK Group
STARK Group is a leading business-to-business distributor of heavy building materials for the construction industry in Northern Europe, with a strategic focus on serving professional craftsmen. STARK Group has net sales of approx. EUR 6 billion and serves c. 10,000 suppliers and 275,000 customers from its 550 locations. Headquartered in Denmark, STARK Group has approx. 12,500 employees in Germany, Austria, Denmark, Sweden, Finland, and Norway. The Group has doubled in size over the last couple of years through acquisitions and organic growth, and today, it holds a leading national or regional position in all markets.