STARK Group receives awards for strong marketing concept in Sweden
At this year's Inhouse Awards, Beijer Byggmaterial was awarded Idea of the Year and Communication of the Year for its strong marketing concept with its own podcast "Bygga åt idioter" and YouTube channel "Dom kallar oss hantverkare".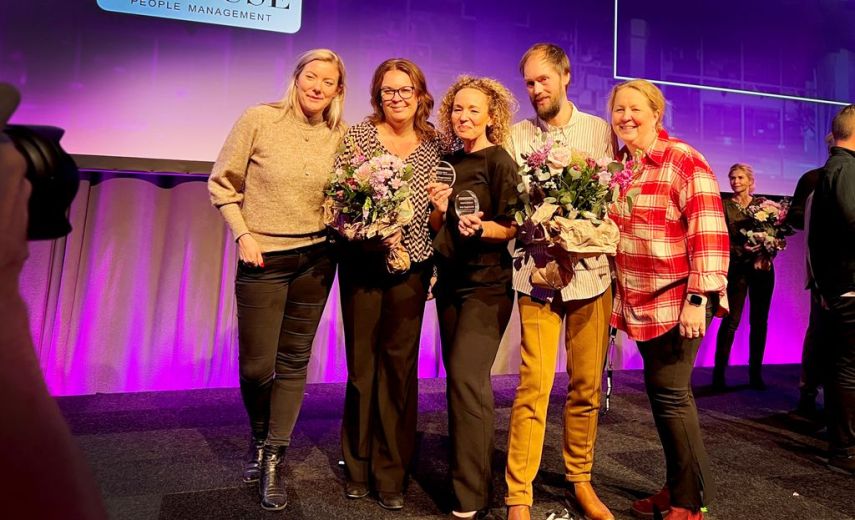 Beijer Byggmaterial is behind the marketing concept with the YouTube channel "dom kallar oss hantvekare", and the popular podcast "Bygga åt idioter", which was honoured with two awards at this year's Inhouse Awards: Idea of ​​the Year and Communication of the Year.
Since 2020, Beijer Byggmaterial has paid tribute to the craftsmen through its own channels and given them a platform where they with humour portray their experiences in their daily work life. The concept started with the publication of the "Bygga åt idioter" book, which quickly became successful and turned into a podcast spin-off with the same core topic: the craftsmen's own stories. The following year, Beijer took a step further and launched the YouTube channel "Dom Kallar oss hanverkare", a comedy series for craftsmen in which the craftsmen themselves play the main role.
Since the beginning, both the number of listeners and viewers in Beijer's primary target group, the professional craftsmen, has grown steadily. Earlier this year, the podcast "Bygga åt idioter" climbed to second place on Spotify's top list of the most popular podcasts in Sweden, and with more than 140,000 listens per week, a sold-out live show to celebrate episode number 100, a nomination for humour podcast of the year, as well the awards for Idea of the Year and Communication of the Year, the marketing concept has cemented its position within Swedish marketing.
"At Beijer, we are very proud to have created two completely unique channels aimed at our customers. We have also created two exclusive channels in which our suppliers and sponsors can be seen, and for us to grow the Beijer brand even stronger. Winning double gold at the Inhouse Awards is, of course, a big boost to continue the work and develop these channels even more. There are many craftsmen stories waiting to be told," says Elisabet Heinrich, marketing manager at Beijer Byggmaterial.
The jury's reasoning:
Idea of ​​the year - "Completely own channels aimed at craftsmen give Beijer unique opportunities."
"When traditional media are no longer up to the task, it is important to have the courage and ability to rethink and create completely new communication. With humour, recognition and joy, the winner takes a clear stand for and celebrates its own target group. The result is nothing less than a rising star in its own unique universe."
Communication of the year - "Craftsman humour in own channels."
"Think, think again and think again. Then play on a positive feeling, give the target audience something unexpected, do it again and again, and success is a fact."
The Inhouse Awards are organized by the daily newspapers Dagens Media and Resumé.
About STARK Group
STARK Group is a leading business-to-business distributor of heavy building materials for the construction industry in Northern Europe, with a strategic focus on serving the professional builders. STARK Group has net sales of approx. EUR 6 billion and serves c. 10,000 suppliers and 275,000 customers from its 550 locations. Headquartered in Denmark, STARK Group has approx. 12,500 employees in Germany, Austria, Denmark, Sweden, Finland, and Norway. The Group has doubled in size over the last couple of years through acquisitions and organic growth, and today, it holds a leading national or regional position in all markets.
About Beijer Byggmaterial
Beijer Byggmaterial AB is Sweden's largest retailer and distributor of building materials with 113 branches across Sweden. The company serves both building professionals and home professionals with high-quality building materials, tools and services. Beijer Byggmaterial has a revenue of approx. SEK 12 billion, employs around 2,500 employees and is part of STARK Group.