STARK Group's sustainability efforts recognised with EcoVadis Platinum
For the second year in a row, STARK Group secures the highest distinction, a platinum rating, in EcoVadis' global sustainability assessment, thus maintaining its position among the top 1% of all assessed companies.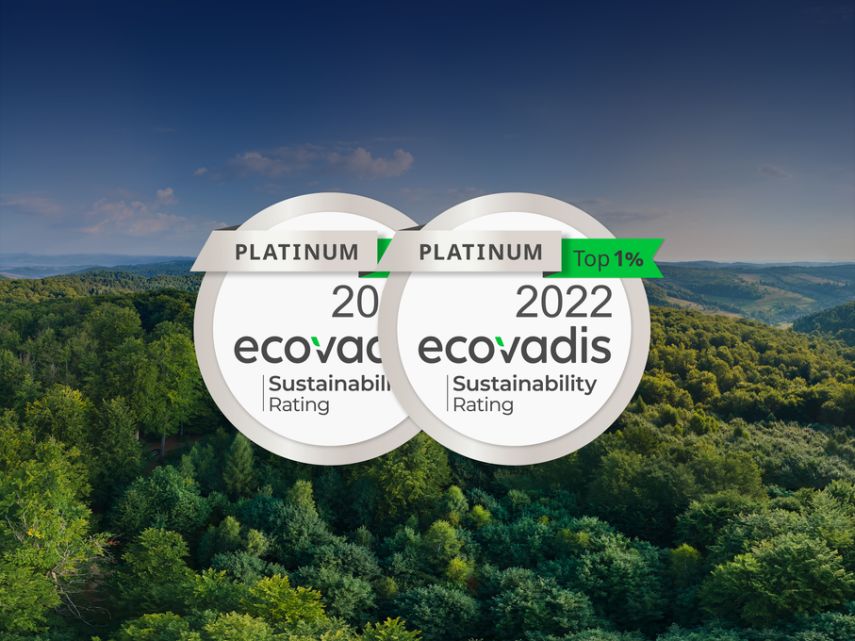 STARK Group has achieved a platinum rating by EcoVadis for the company's sustainable business practices, placing STARK Group in the top 1% of companies assessed by EcoVadis. The platinum rating reflects STARK Group's ongoing implementation and integration of measurable and concrete initiatives within the categories of Environment, Labour and Human Rights, Ethics and Sustainable Procurement.
CEO of STARK Group, Søren P. Olesen says:
"Our commitment to investing in sustainable initiatives has never been stronger. Therefore, I am happy that we, for the second time in a row, have been recognised with a platinum rating by EcoVadis. It is a recognition of our dedication and an award for our work with sustainability and the processes behind it."
"We have a responsibility towards our customers, owners, investors and partners to not only keep our sustainability promises but also ensure regular and transparent checks on our performance, which is why the EcoVadis platinum rating is so important to us. It provides a reliable, global benchmark for our performance and is independent proof that sustainability is an integral part of our business functions."
As the world's leading provider of company sustainability assessments, EcoVadis has assessed more than 100,000 companies globally. The platinum rating is based on a comprehensive assessment of STARK Group's sustainability performance based on 21 criteria grouped into four main themes: Environment, Labour and Human Rights, Ethics and Sustainable Procurement. The company's performance in each of these themes has been evaluated and rated with an overall score of 85/100.
Partnerships as the foundation for a net zero construction industry of the future
The recently published Sustainability Report 2022 outlines STARK Group's sustainability priorities, commitments, progress and achievements.
In the financial year 21/22, the company continued to deliver positive results towards the Group's goal of net zero in 2050 with a 22% reduction of scope 1 and 2 emissions by securing a greater share of renewable energy, as well as low-emission transport and distribution. In addition, the company has increased its focus on obtaining product-specific CO2 data to improve the quality of scope 3 emissions data. The report also shows steady progress in reducing waste volumes and an increased recycling rate.
With an ambition to be the preferred partner for sustainable construction, STARK Group sees itself as an important partner for the green transition, focusing on supporting craftsmen in the SME segment. Therefore, among other initiatives, the company has trained 250 sustainability specialists who can advise customers, implemented take-back solutions between customers and suppliers, and launched an improved system to provide documentation and calculations that can assist the professional craftsmen and their customers in complying with new sustainability requirements.
STARK Group has joined a number of initiatives related to diversity, equality and inclusion and the company's climate plan towards 2030 has been validated and approved by the Science Based Targets initiative (SBTi). In addition, STARK Group is an active member of the UN's Global Compact.
Read more about STARK Group's priorities and progress in environmental and social sustainability in the Group's Sustainability Report 2022.
About EcoVadis
EcoVadis is the world's largest and most trusted provider of corporate sustainability assessments. More than 100,000 companies in more than 175 countries across more than 200 industries are assessed by EcoVadis. EcoVadis' methodology is built on international sustainability standards, including the Global Reporting Initiative, the United Nations Global Compact and ISO 26000. EcoVadis' ratings and monitoring tools aim to make it easier for companies to manage risks and create solutions that improve the green footprint in global supply chains.
About STARK Group
STARK Group is a leading business-to-business distributor of heavy building materials for the construction industry in Northern Europe, with a strategic focus on serving the professional builders. STARK Group has net sales of approx. EUR 6 billion and serves c. 10,000 suppliers and 275,000 customers from its 550 locations. Headquartered in Denmark, STARK Group has approx. 12,500 employees in Germany, Austria, Denmark, Sweden, Finland, and Norway. The Group has doubled in size over the last couple of years through acquisitions and organic growth, and today, it holds a leading national or regional position in all markets.